Vstavaj - Steh auf: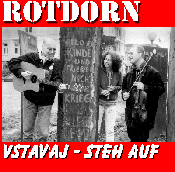 erschien im August 2004
Titel:
Back home in Derry
(M/T: Bobby Sands)
I

In 1803 we sailed out to sea
out from the sweat town of Derry.
For Australia bound if we didn't all drown
the marks of our fetters we carried.
In the rusty iron chains we sighed for our wains,
as our good wives we left in sorrow.
As the mainsails unfurled our curses we hurled
on the English and thoughts of tomorrow.

CH

Oh oh oh oh I wish I was back home in Derry.
Oh oh oh oh I wish I was back home in Derry.

II

At the mouth of the Foyle bid farewell to the soil
as down below decks we were lying.
O'Doherty screamed woken out of a dream
by a vision of Bold Robert dying.
The sun burned us cruel as we dished out the gruel.
Dan O'Connor was down with a fever.
60 rebels today bound for Botany Bay,
how many will reach their receiver.

III

I cursed them to hell as our bow fought the swell,
our ship danced like a moth in the firelights.
White horses rode high as the devil passed by,
taking souls to Hades by twilight.
Five weeks out to sea we were now forty-three,
Our comrades we buried each morning.
In our own slime we were lost in a time,
endless night without dawning.

IV

Van Diemen's land is a hell for a man
to live out his live in slavery.
Where the climate is raw and the guns make the law,
neither wind nor rain cares for bravery.
Twenty years have gone by and I've ended me bond,
and comrades ghost are behind me.
A rebel I came and I'll die the same
on the cold winds of night you will find me.
Ende der 60ziger und die ganzen 70ziger Jahre hindurch eskalierte in Nord-Irland die brutale Unterdrückung der antiimperialistischen Bürgerrechtsbewegung, in deren Mittelpunkt so elementare Forderungen wie das Wahlrecht für alle bei den Kommunalwahlen, Recht auf Arbeit und auf Wohnung standen. Am 1.März 1981 begann in Nordirland und in der Republik Irland eine breite Solidaritätsbewegung für den republikanischen Kampf im Norden der Insel. Grund dafür war der Beginn eines Hungerstreiks von republikanischen Gefangenen in Long Kesh in den sogenannten H-Blocks, ein von der Britischen Armee errichtetes Spezialgefängnis. Der 27- jährige Bobby Sands trat als erster am 1.März 1981 in den Hungerstreik und starb am 5.Mai 1981 nach 65 Tagen. Die Beerdigung von Bobby Sands in Belfast war eine Massendemonstration - 100.000 Menschen folgten seinem Sarg.
Bobby Sands schrieb "Back home in Derry" für seine Genossen aus der nordirischen Hafenstadt Derry, die mit ihm in den berüchtigten H-Blocks inhaftiert waren. Das Lied erinnert an die unmenschlichen Massendeportationen Anfang des 19. Jahrhunderts von tausenden irischer Freiheitskämpfer, eingepfercht in den Laderäumen von Schiffen und in Ketten gefesselt.