Vstavaj - Steh auf: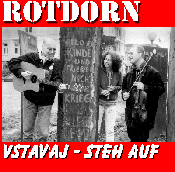 erschien im August 2004
Titel:
Cam Ye O'er Frae France
(M/T: Trad. Schottland)
I

Came ye o'er frae France? Came ye down by Lunnon?
I saw ye Geordie Whelps and his bonnie woman?
Oh were ye at the place ca'd the Kittle Housie?
Saw ye Geordie's grace a riding on a goosie?

II

Geordie he's a man, there is little doubt o't;
he's done a' he can, wha can do without it?
Down there came a blade linkin' like my Lordie;
he wad drive a trade at the loom o' Geordie.

III

Though the claith were bad, blythly may we niffer;
gin we get a wab, it makes little differ.
We hae tint our plaid, bannet, belt and Swordie,
ha's and mailins braid ­ but we hae a Geordie!

IV

Jocky's gane to France, and Montgomery's lady;
there they'll learn to dance: ­ Madam, are ye ready?
They'll be back belyue, belted, brisk and lordly;
brawly may they thrive to dance a jig wi' Geordie!

V

Hey for Sandy Dons! Hey for Cockolorum!
Hey for Bobbing John, and his Highland Quorum!
Mony a sword and lance, swings at Highland Hurdie;
How they'll skip and dance, o'er the bum o' Geordie!
Ein altes schottisches Spottlied auf König und Adel. Hier geht es um Geordie, den englischen König Georg I, auch bekannt als Georg Ludwig Kurfürst von Hannover, der 1714 den britischen Thron bestieg. Geordie liebte die Dekadenz und hatte die Gewohnheit, auf zahlreichen abgetakelten Adelsfrauen und Mätressen, die hier in dem Lied als Goosies (Gänslein) bezeichnet werden, zu "reiten".